The highly anticipated Avatar Kinect has been added to Kinect Fun Labs as of July 25th.  It is the newest Gadget that is being added to the list that you can play with and get achievements with. Kinect Sparklers will be available for all to play on July 28th.  These two Gadgets were shown during E3 and will add to the fun that you can have with animating your Avatar in Kinect Fun Labs.
Avatar Kinect allows you to animate your avatar with movements and voice.  Avatar Kinect will capture your voice and facial expressions down to the point that when you smile, nod or do anything similar so will your avatar.  You can invite up to 7 of your friends to 24 virtual stages and to talk and converse with each other in a brand new way over chat using your Avatars instead of just your voice.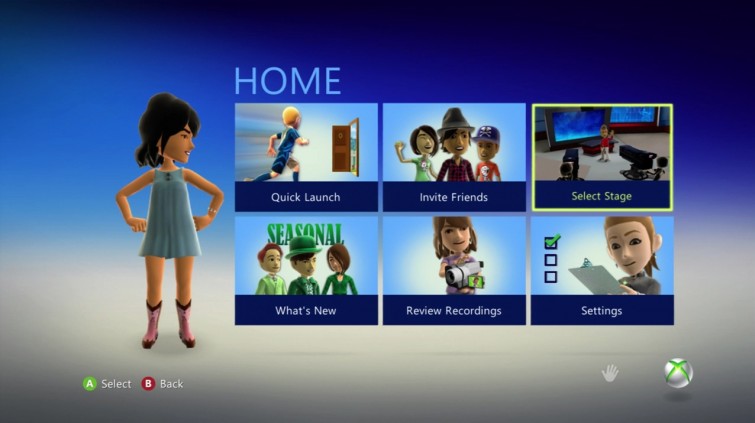 Avatar Kinect can also video capture of entire routine from a producer's eyes point of view.  It is able to follow you around, zooming in, and panning around just as if it were a real TV camera crew.  You can then upload it on KinectShare.com and then download it to your computer and start sharing it to the masses using various social media sites such as Facebook, Twitter, and Youtube.
Avatar Kinect is free to all Gold Members and for its launch has unlocked it for all Xbox Live members (free and Gold) from July 25 – September 8.  Starting Thursday, the Xbox Facebook page is also hosting a special Avatar Kinect contest, featuring an online comedy festival with some of Hollywood's funniest stand-up comedians. Watch the comedians perform through Avatar Kinect and vote for your favorite video for a chance to win an Xbox 360 and Kinect bundle.
On July 28th, when Kinect Sparklers comes out, you are able to take a snap shot of yourself and by simply tracing your fingers along a path line create a 3-D effect as if you were using a sparkler from the 4th of July.  It will allow you to transform your room into a canvas and write and trace with a sparkler.  You can do so in 3-D and trace in front and behind yourself and then once you are done, you are able to move around the picture and see your creation. You can then upload your pictures to KinectShare.com to share with all your friends.  Kinect Sparklers will be available within Kinect Fun Labs for 240 Microsoft points.