I've mentioned before how much I love the art style of the upcoming game Contrast from Compulsion Studios. With the game coming out in the next month, Compulsion visual designer/concept artist Whitney has taken to the Contrast game blog with some very interesting information about the art development process.
First focusing on Didi and Dawn, Whitney shares some fascinating details about how the design of the characters were informed by the roles they played. A peek at that process:
Dawn was an extremely challenging character to design. We knew she had to be (1) imaginary, (2) from the 20s, and (3) athletic. She had to be magical without looking too nutty, and be able to run and jump and be crazy nimble, which was not something 1920s women did in their flapper dresses and pencil skirts. We also wanted her to be super cool to both men and women, without being overtly sexual.
.
She also shared pictures of progression from initial to final design: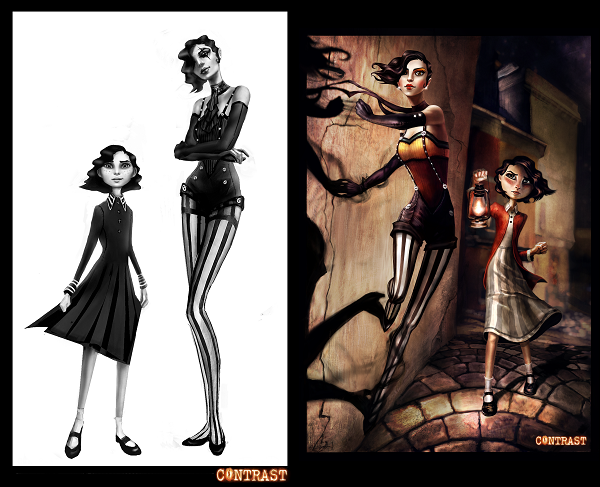 Until we see these kinds of breakdowns as to why specific small details are or are not made, added, or changed, it's difficult for us to appreciate the peculiarities of a game. The art is often a ton of work, and I really appreciate this kind of perspicuity. I finished the article about Dawn and Didi and wanted more. Thankfully, a subsequent post was all about the world that was built for the game. Again, the team at Compulsion shares with us some of the art progression:
As if you couldn't tell, I was completely entranced by this game at PAX East this year. These glimpses into the development process are interesting at any level, and for a game like this with such a strong art style and such a focus on the game art, it is absolutely fascinating.
Come with me, buy your ticket, prepare for the show.