Someone asked me recently, "So, is your daughter a gamer?"
It's a reasonable question. I've worked in the video game industry since 1995, and if you've ever heard of me it's because of my eight year stint as Trixie360, community manager, website editor, and video hostess at Xbox.
Eighteen years in the games business, eh? You must be a hardcore gamer!
Nope. I've never really considered myself a gamer. I've made a career of writing and talking about video games, but I've always been more interested in gamers than games. As for playing them? Meh, I can take it or leave it. The last game I played was Panda Jam on Facebook, and I haven't turned on my Xbox 360 in about 18 months.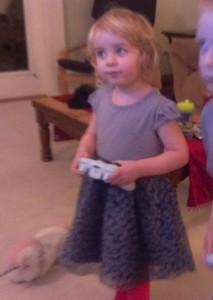 As for my youngest child? My nearly-four-year-old, Allison? Is she a gamer? I had to stop and think about it.
She started playing games on my iPad when she was eleven months old. She'll play on her DS XL until it runs out of battery and then move on to my DS Lite. There's always a DS charging in this house. Around Christmas time we dusted off the Wii and set it up for her. One Dora Saves the Snow Princess game later she had her first ragequit. Then, about two weeks ago, she was so busy playing Diego's Dinosaur Rescue that she peed her pants.
I had to admit it. The kid's a gamer.
In this column I'll write about what Allison is playing, games and game-related products she enjoys, and my adventures in attempting to raise a gamer that plays fair, stays dry, and doesn't throw the Wiimote.