I'm more than willing to admit that I'm not the biggest MMO player in the world. I sunk a few hours in to World of Warcraft years ago, and actually found myself having a decent time with DC Universe Online on the PS3. That said, neither game ever really "stuck." I'd play them for a time, enjoy myself and drop them. However, having just played a number of hours with the alpha build of Defiance, the upcoming third-person shooter MMO from Trion Worlds, there's a real chance that this game could finally be the one to get me into the genre.
As previously stated, Defiance is a third-person shooter, set on a destroyed Earth. Years earlier, a group of aliens known as the Votans, attempted to colonize Earth, leading to a massive war between them and the humans. Years later and an uneasy peace has settled between the species.
One thing that I found extremely interesting about the game was how accessible it seemed. Having now played pre-release builds of the Xbox 360, PS3 and PC versions of the games, I didn't feel like there was too steep of a learning curve for players. It seems as though all three versions are easily accessible by new players and old alike. This stands in stark contrast to some of the other MMOs on the market and could easily work in favor for the game.
On top of that, the world does feel far more organic and dynamic than in other MMO's that I have played previously. For instance, the world has "dynamic events" known as Arkfalls. The Arkfalls are caused by falling debris from a massive battle in space, over Earth. Occasionally debris falls from these derelict ships and lands in the world. These occur, seemingly, at random and can vary in difficulty. Some of the Arkfalls have you fighting against a group of mutated humans while others pit you against creatures known as "Hellbugs." It adds a little bit of variety when you are grinding through missions, which helps make the game feel unique.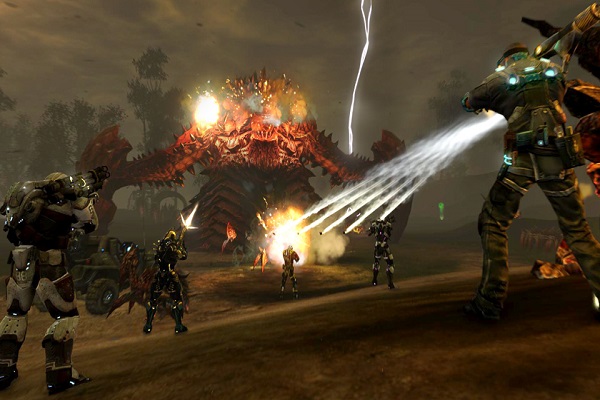 As you play through the missions of the game, you gain "Ego points." These points can be used on an upgrade tree that starts with four main abilities. Cloak turns you invisible, forcing you to stay on your toes in PVP missions since you can be easily flanked. Decoy creates a copy of yourself on the battlefield, allowing you to distract enemies. Overcharge adds a buff to your weapons, making them far more deadly. In my time with the game, I mainly used this ability along with a shotgun, making most of my attacks deadly with one or two hits. Additionally, there is Blur which makes you run at high speeds and adds a buff to your melee damage. This upgrade seemed almost useless since it required you to get in very close to enemies in order to do damage to them.
These upgrades have several branches of upgrades off of them and all of the upgrades be upgraded multiple times. It seems like people who become dedicated to the game could, in theory, spend hundreds of hours unlocking all of the abilities.
A number of the main missions and side quests, however, sometimes felt like they fell into a very simple pattern. You'd often have to travel to a destination, shoot a group of enemies, press a button and shoot more enemies. In an average third-person shooter, this can be somewhat dull but the game is not nearly as long as an MMO. It's not difficult to see that over hours and hours of play, how this might get somewhat boring to players. Hopefully, when the game releases, there is some more variety added to these mission types.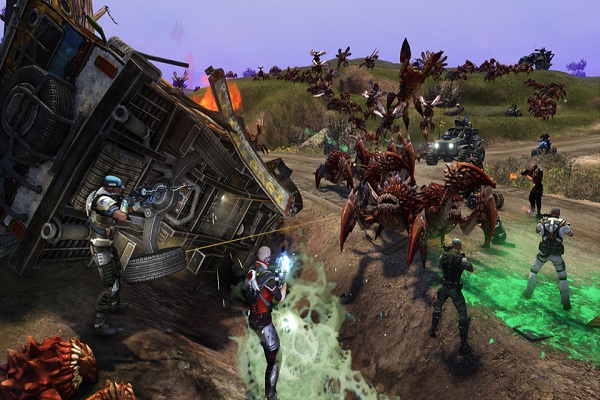 Perhaps the most interesting part of Defiance, though, is its massive multimedia campaign. Defiance is the first video game, to my memory, to have a TV show (which airs on Syfy two weeks after the game launches) tied into it. The goal of the TV show seems to be to build the world and give more context for the players. Not only that, but it also seems to be a fantastic idea to draw in people who don't normally play these sorts of games.
Defiance is a game that could draw me back into the MMO genre. Given Trion Worlds history with Rift, they seem to have a feel for exactly how to make a fun and interesting game. As I type, part of me wants to go back and play Defiance, and being someone who doesn't play these types of games that says a lot. Hopefully, the finished product can be just as addicting.